Adobe PDF Print Engine ( APPE )
Do you know what makes your prints so accurate, reliable, and fast?
It is the industry's leading rendering technology – Adobe PDF Print Engine that powers workflows in every commercial print industry segment, driving over 200,000 presses and proofers around the globe!
LEARN MORE:
Adobe PDF Print Engine | Features | Partner's Voice
Adobe PDF Print Engine - Perfect for Packaging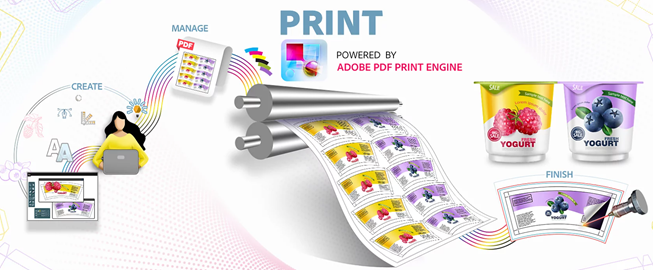 Effective packaging combines persuasive design, precision printing and profitable converting. Packaging equipment vendors rely on the Adobe PDF Print Engine to burn flexo, gravure and offset plates, and to directly stream rasters to high-speed inkjet presses (wide format and narrow format). PDF Print Engine is key to the Adobe PDF Packaging Experience.
Adobe PDF Print Engine is perfect for packaging:
– Accurately emulates spot colors and Extended Color Gamut presses (ECG).
– Strong track record as the leading rendering technology for inkjet package and label printing, including VDP.
– PDF Print Engine trapping module automates tracking the possibility of misregistration between plates or color planes, prepress operators in packaging workflows during rendering.
– Raster Preview allows prepress operators to verify a job on-screen right down to the pixel level before production
– Supporting Adobe CoolType & Fine Line Rendering technology
LEARN MORE:  Adobe Package Printing Solution

Adobe PDF Print Engine - Tailored for Textile
The textile printing market has evolved following the emergence of inkjet technology. The compatibility of the three key components of digital textile printing: the machine, print heads, and ink, is integral if a print service provider is to achieve high-quality output – Adobe PDF Print Engine (raster image processor software), enables that goal to be achieved.
Adobe PDF Print Engine is tailored for textiles:
– Fastest rendering technology for rich graphics with optimization for complex effects created by the latest features in Adobe Creative Cloud applications.
– Ensures colors are accurately and consistently reproduced across multiple fabric types – irrespective of the ink being used – which the PDF Print Engine supports.
– Supports latest PDF color capabilities such as black point compensation (BPC), spectral data for spot colors, and page-level output intent.
LEARN MORE:  Adobe Textile Printing Solution
Adobe Embedded Print Engine
PDFs are the preferred format for document exchange, collaboration, and print accuracy – across devices and platforms.  Adobe Embedded Print Engine is the next-generation RIP that natively processes PDF and PostScript files for faster and more reliable printing.
LEARN MORE:  Adobe Embedded Print Engine
Adobe Print Family

The Adobe Print Family delivers best-in-class RIP and driver technologies for all major print OEMs, enabling them to provide commercial print ("Printing for Business") technologies to Print Service Providers and office print ("Printing for Communication") technologies to small and large organizations.
Adobe Print Family: pdfprintengine@adobe.com
Social Media Links:
•        LinkedIn:  https://www.linkedin.com/company/adobe-print-family
•        Twitter: https://twitter.com/AdobePrint
•        Facebook: https://www.facebook.com/adobeprintfamily
•        YouTube:https://www.youtube.com/channel/UCKAHrGa57VnfOds487OIIiA