Seeing is believing! Watch the movie first ! Check the difference of SMOKE !
Watch this movie, too! Learn the difference between the generic ink and KIWA-JET!
Ink jet ink KIWA-JET manufactured by dyestuff manufacturer
KIWA Chemical Industry Co., Ltd which was established in Wakayama where was the birth place of synthetic dye industry supplies dye and pigment products that meet customer's demands worldwide.

"KIWA-JET" is an inkjet ink to which we gather rich knowledge and experience developed over many years.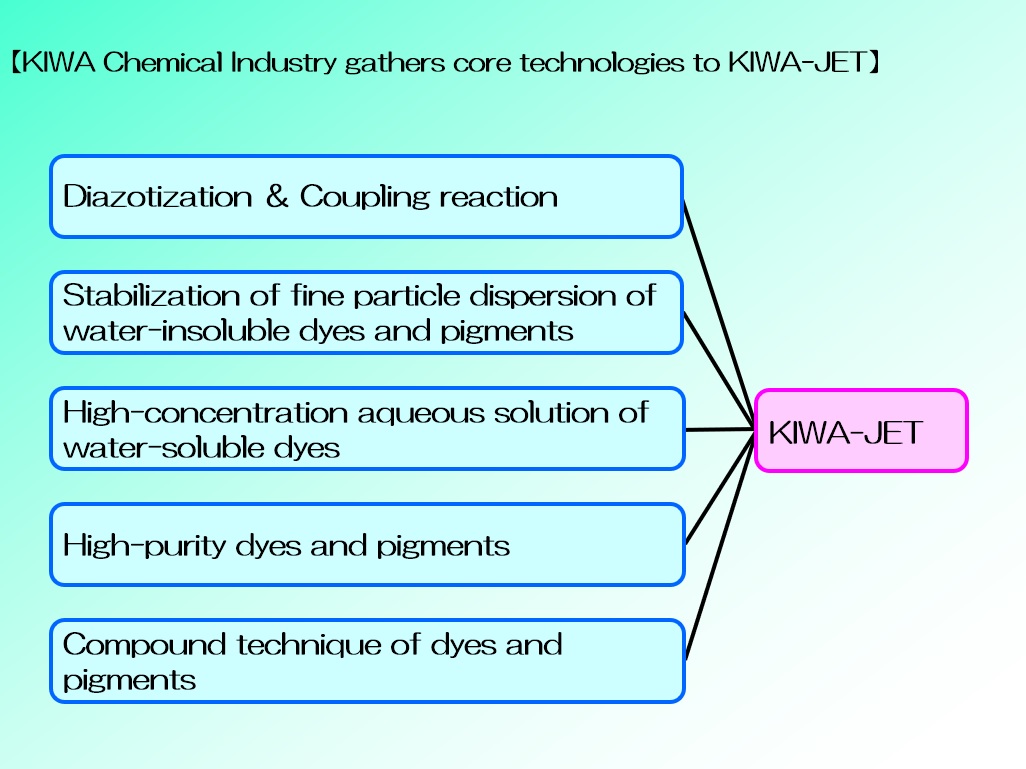 KIWA-JET has 5 kinds of ink depending on the material to be dyed.
The type of dye is decided depending on the material to be dyed.

"KIWA-JET" selects the most suitable dye for inkjet ink by considering the hue, density, various fastnesses, and stability over time for each type.
Development by inkjet print head manufacturers and inkjet printer manufacturers is progressing rapidly. "KIWA-JET" is evolving day by day so that it will not be left behind by new inkjet print heads and new inkjet printers.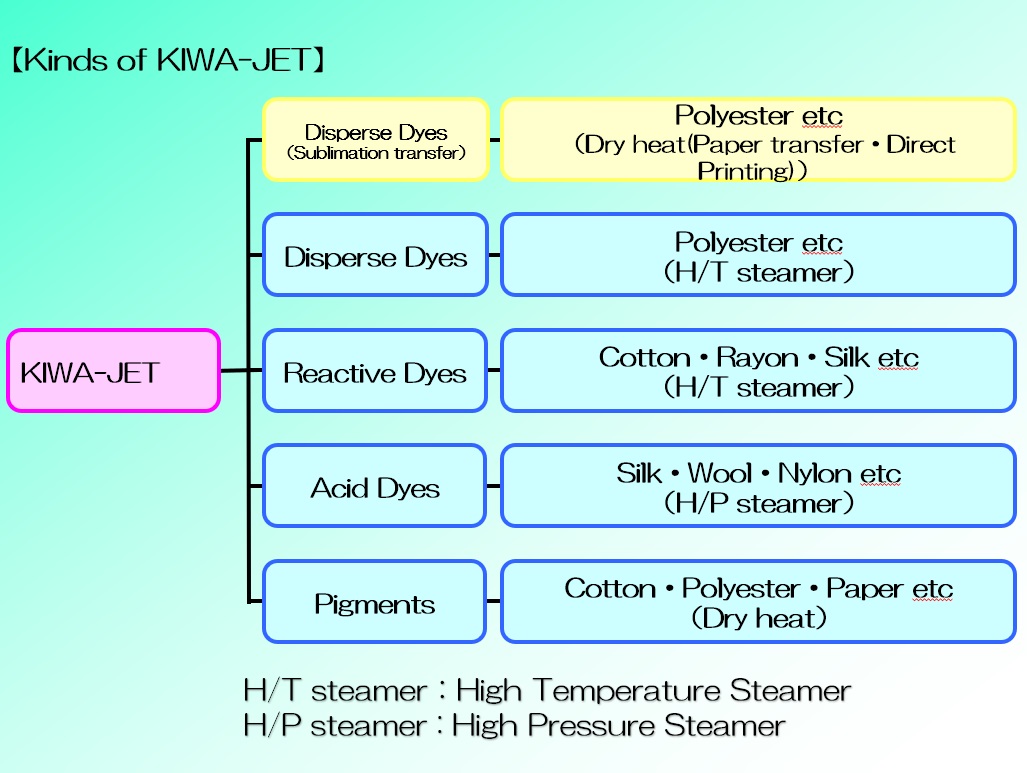 (3) Environment friendly sublimation ink
Inkjet printing using sublimation transfer inks for polyester is widely used.The reason why everyone choose sublimation ink is that the dying process is relatively easy.

It's possible to simplify the equipment to dye because sublimation ink dye polyester in dry heat.
Another feature is that no waste liquid is generated in the dyeing process, and it is attracting worldwide attention as an environmentally friendly waterless dyeing method.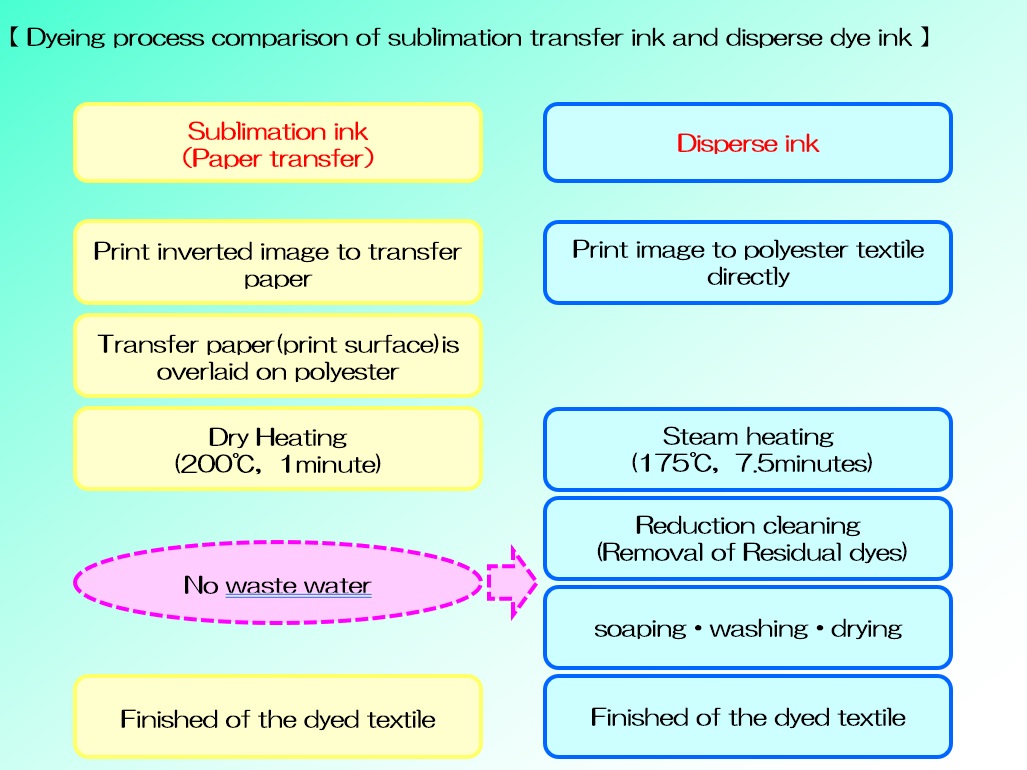 (4) Customer friendly KIWA-JET Sublimation ink
"KIWA-JET" Sublimation ink is not only friendly to environment but also customers.

Sublimation ink is composed of disperse dyes, dispersant, humectant, and water.Among these, humectant has a great influence on the jetting stability, and generally the higher the content, the higher the jetting stability.

The humectant does not evaporate at room temperature.
But there were some cases that agents volatilized due to heating and polluted customer's workplace.

In order to solve this problem and make it possible for customers to use ink at ease, while ensuring output stability is a top priority, we chose humectant and drastically reduced the amount.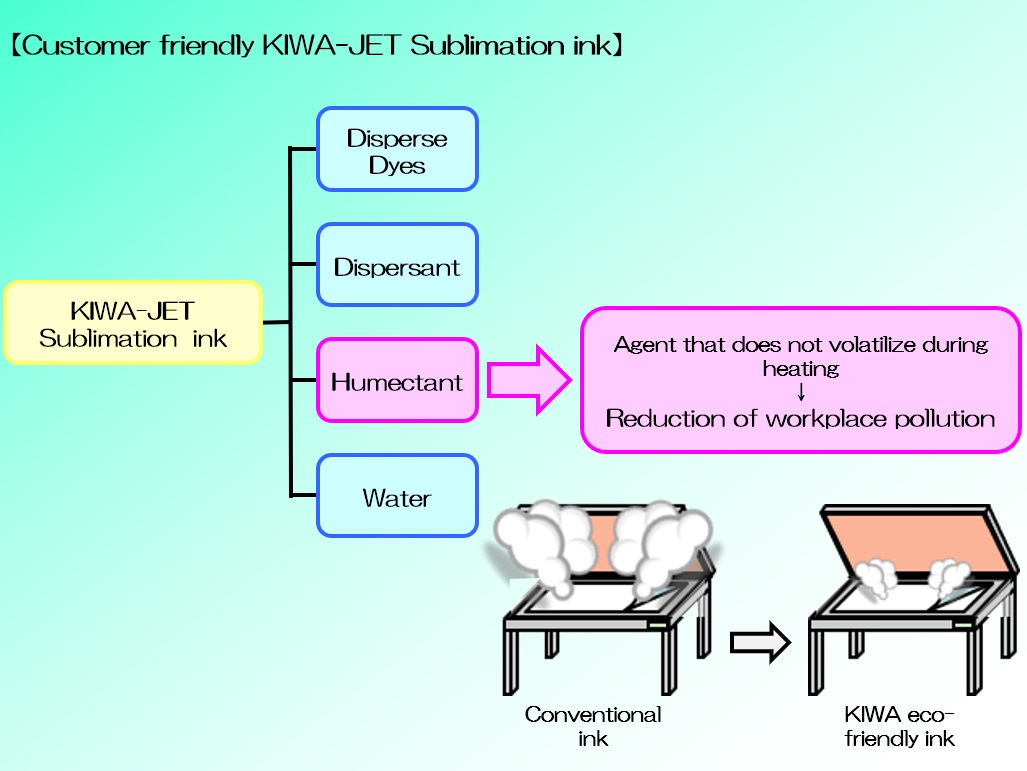 As a result "KIWA-JET" has become a product that is friendly to customers to use while jetting stability and suppressing the volatilization of the humectant.
(5)KIWA-JET : Dyeing examples of sublimation ink
"KIWA-JET" Sublimation ink is often used for dying polyester such as sports apparel and banners(soccer uniforms and stars and stripes are just images…).
Not only textiles are dyed.It's possible to dye films whose material is polyester.
The dyeing examples in the red frame show film media for inkjet printing manufactured by our film division dyed with "KIWA-JET" sublimation ink.It is used for advertisements both indoors and outdoors, and the vivid colors unique to sublimation transfer ink are fascinating.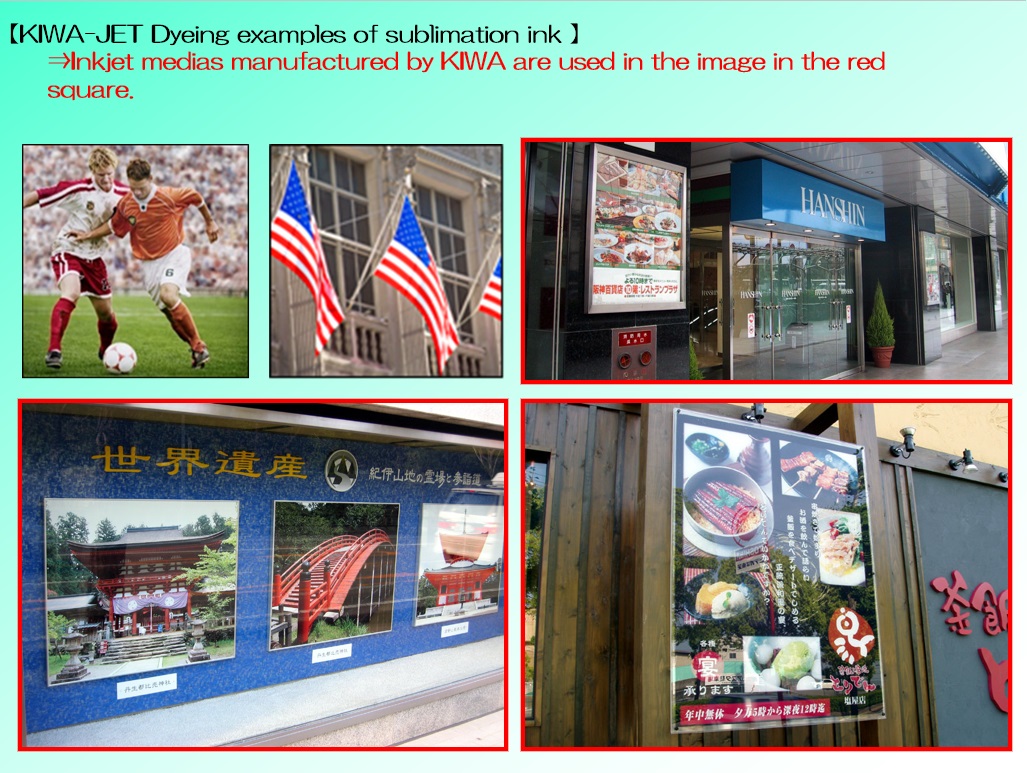 Message from President and Representative Director Shunji Maekawa
KIWA Chemical Industry Co., Ltd, established on December 29th,1954 in Wakayama, is a general color manufacturer manufacturing dyes and pigments.As we supply the raw materials for pigment to pigment manufactures, we are proud to support the entire colorants industry by supplying raw materials for pigments to various pigment manufacturers.
Our digital inks on the market cover a wide range of products.Especially sublimation ink gets a good reputation as less smoke and environment-friendly.
Many customers in the sublimation transfer business for a long time have been troubled by tar-like substances that accumulate in the exhaust ducts and blanket felts of the heat transfer machine.They had been earnestly hoping that these trouble could be eliminated.With the sole desire to meet the demand from these customers, we have developed new smokeless sublimation ink using all of our technology with passion.
KIWA-JET is high quality ink that we have developed because we are general color manufacturer that can see the face and responsible.Compared to competitor's inks our inks are less smoke and high efficiency in transfer and can contribute to shorten the transfer time.
KIWA-JET is always advancing to match new generation printheads and printers.At first please compare our inks compared to competitor's ink.We are sure we can meet your expectation.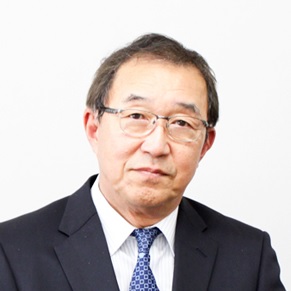 With the introduction from our customers, we are pleased to participate in Virtual Messe 2020 sponsored by Ohno Inkjet Consulting.Thank you for your kind support.
KIWA CHEMICAL INDUSTRY CO., LTD.
President and Representative Director Shunji Maekawa

コンタクト

Email

Kiwa Chemical Industry Co., Ltd.Dyestuff Division
+81 73-423-3214

33, Minami-Tanabe-Cho, Wakayama City, Wakayama Prefecture, Japan