What Maxell can do
《UV curable inkjet inks》
Maxell develops and manufactures industrial inkjet inks, based on leveraging its "core technology of kneading, fine particle dispersion, material/interface designing" that have been cultivated over many years in magnetic tape for high-density recording, and "reliable quality assurance system" achieved in the security and automotive fields.
Specializing in UV curable inkjet inks for industrial market, we can try to propose any inks whatever you want.
Please feel free to contact us if you need further details and requests such as "Can you make this kind of ink?"
Maxell is currently developing and manufacturing following inks.
● Primer UV ink (Adhesion to polyolefin, metal, glass, ceramic, etc.)
● Environmentally friendly UV ink (low odor, no SVHC)
● Economic UV ink (compatible with high and low viscosity print-heads)
● Support ink for MJ type 3D printing (water-soluble, support stability)
● High Tg model ink for MJ type 3D printing (heat resistance, dimensional stability)
● UV ink for one-pass (high speed)
● Transparent conductive ink (aqueous, UV curable coating type inks)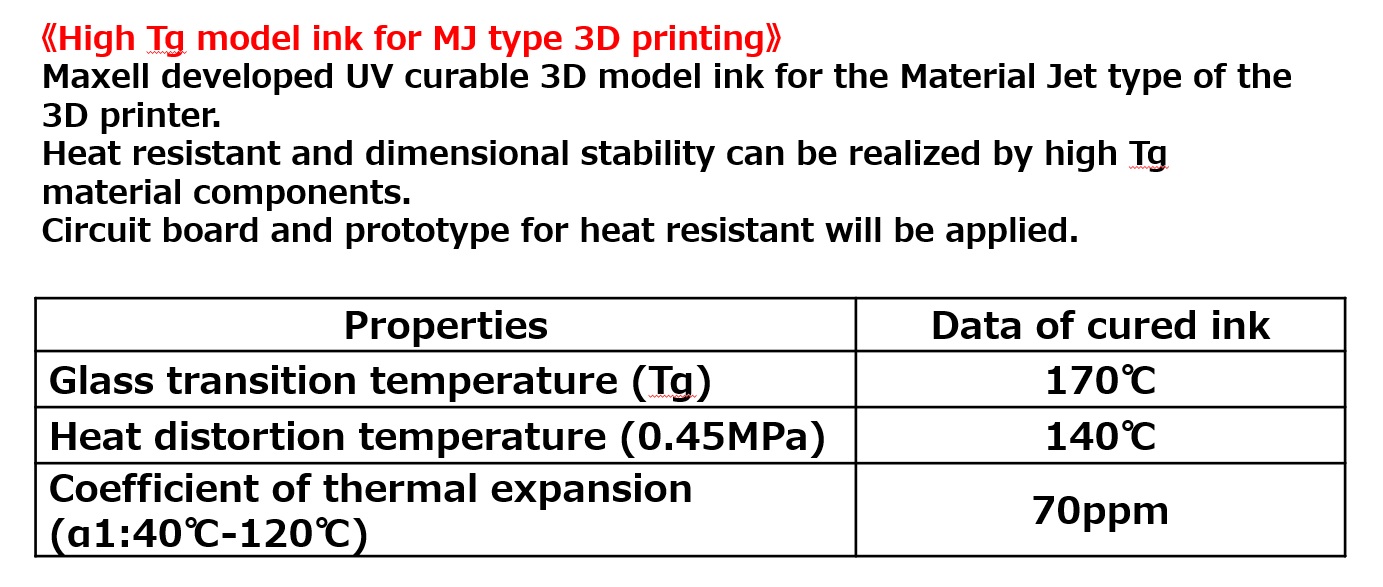 《UV curable inkjet Primer》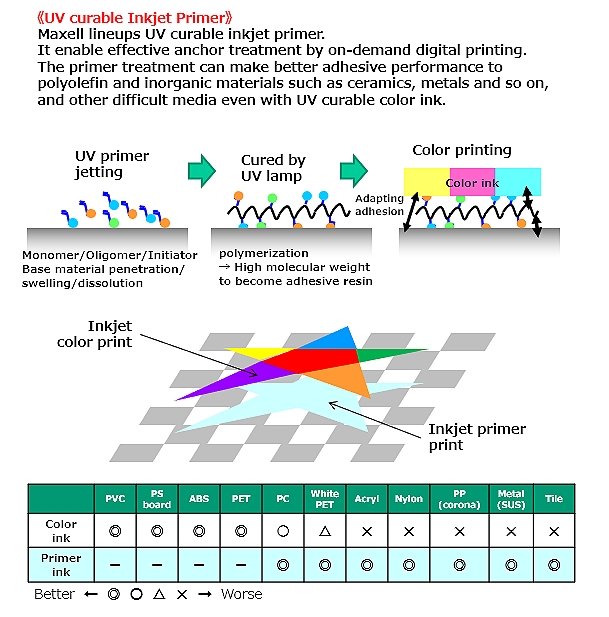 《Electroforming(EF2) technology: Inkjet related products》
EF2 is the process combing photolithography and plating process, which can serve you much smaller and finer products than etching/laser process.
Also, since EF2 is the process not having outer lead, the products made by EF2 can be used without generating any contamination on your site.

Maxell develops and produce the following products related to inkjet.
●Nozzle for Inkjet
●Precision filter for Inkjet
●Pressure chamber for Inkjet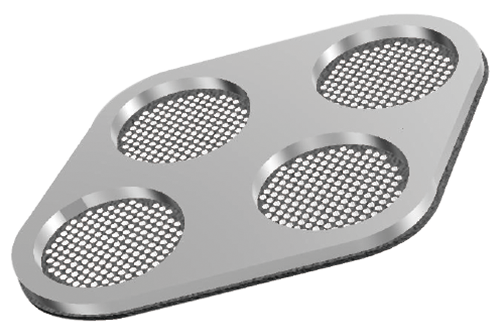 Please contact us if you have any questions about electroforming(EF2). The online discussion is also available.
Company profile
Based on "Supporting Smart Life, Peace of Mind & Cheer around People" as Maxell's management vision, we provides the products that contribute to a digitalized society in following three business segments.
● Energy products such as lithium-ion batteries, micro batteries, and electricity
storage systems
● Electric appliances and consumer products such as projectors, AV accessories, and
beauty and health equipment
● Industrial materials such as optical parts, adhesive tapes, functional films, and
industrial inkjet inks

Official Links / Contact us
Electroforming(EF2) technology website
《Ink products》
IF Sales Section, BtoB Sales Dept., IF Business Unit, Sliontec Division, Maxell, Ltd.
Address: 1 Koizumi, Oyamazaki, Oyamazaki-cho, Otokuni-gun, Kyoto 618-8525 Japan
Phone:+81-75-956-4152
《Electroforming(EF2)》
Maxell, Ltd. Life Solution Division, Key Device Business Unit, Sales&Marketing Department, Sales Section
Location: ONEST MOTOYOYOGI SQUARE, 30-13 Motoyoyogi-cho, Shibuya-ku,
Tokyo, 151-8527 Japan
Phone: +81-3-6407-2927